DevOps Consultancy Services
We help organisations drive innovation through DevOps consultancy
5x lower change failure rate
46x more frequent code deployments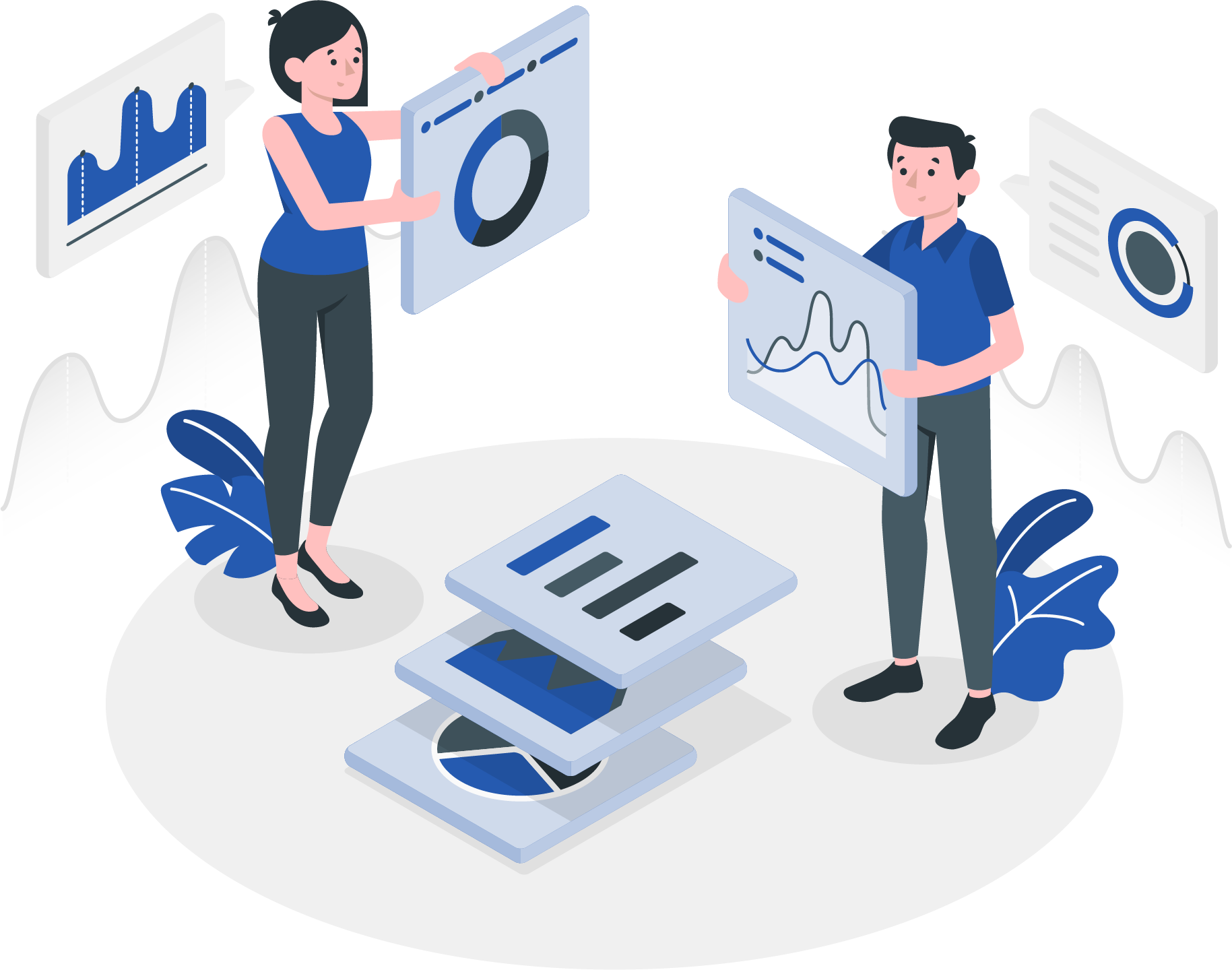 The goal of DevOps Consultancy Services.
Many companies want to adopt DevOps because they are facing difficult challenges or threats when it comes to business growth and innovation. They are looking for a way to outsmart their competition, enforce their position in the market and provide more value for customers, products or services. If companies fail to evolve, they risk the loss of market share, revenue and industry relevance.
However, to integrate DevOps in every layer of your business, you need to change how you work, think and reevaluate the tools you use. Don't forget that DevOps will have an impact on the employees, processes and your technology tool stack. On the contrary, it also puts agility, efficiency and speed within reach. 
DevOps Consultancy is needed to implement DevOps and speed up the process successfully. Don't fall for the same mistakes someone else already discovered. Let us help you for a smooth transition towards digital transformation.

We Stay
Implementing DevOps takes time. We stay with your company until the new practices are fully implemented.
Experts on the Process
Hands-on experience from countless DevOps implementations which will be utilised to guide your company.
Cost-effective
Representing the most cost-effective means of implementing DevOps principles, because the budget shouldn't be neglected.

A Realistic Assessment
A thorough initial assessment from an unbiased perspective which will act as the starting point of the transformation.

Transformational Leaders
To supplement cultural change, employees have to be inspired by a visionair who can deliver strong messages.

Up-to-date Tactics
DevOps is growing rapidly and we are actively putting in the effort to stay up-to-date on any new advanced in the field.
How can DevOps Consultancy help your company?
Our approach to DevOps consultancy can help you with the implementation of DevOps regardless of the maturity of your automated operations and processes. Whether you are exploring possibilities or already know where you stand in the journey to DevOps, our experts are ready to help. 
Advice on a game plan
To start with,  we need to assess the current situation within your company. What would you like to achieve by adopting DevOps? The first step to helping you is by listening and understanding. Our consultants will perform a couple of assessments and talk to several stakeholders to come up with the perfect game plan to realize DevOps. Streamlined collaboration is critical during this stage to give you a piece of advice which is reliable, fits your goal and is executable.
Implement new technologies and migrate old ones
When composing the game plan, we also evaluate your current infrastructure and technologies. Since IT optimization is one of the main challenges of digital transformation, it's important to know what your applications, infrastructure and development platform are made off. After the assessment, you'll receive advice on how to modernize your IT. Our experts can help with the implementation of modern technologies and migrate your old environments and applications.
Do-it-yourself
Sure, we can tell you how to implement DevOps in your business. However, in the end, DevOps is a mindset and not a magic tool or solution. Our specialists help you to master the aspects of DevOps, and after that, you will be able to apply DevOps to every inch of your company. We are there to assist, support and guide you towards doing it yourself.
Managed Services
Once your processes are set-up for the DevOps way of working, and you're able to do it yourself, there are two options. We can leave you to it, and optionally provide support when needed. Or our support team can take care of the management and maintenance of your new or improved infrastructure with managed services. Read more about managed services on this page.
The 4 offerings of DevOps consultancy
1. Define and review architecture
Our team of Openshift experts can work together with your team to ensure that your cloud-native applications will perform and scale as expected once deployed to production. We will make sure your applications are easy to debug and monitor.
2. Define and implement OpenShift infrastructure
Discover the advantages of Openshift and application containerization. Allow our engineers to guide you and share their real-world experience to migrate your infrastructure from hardware or virtual machine-based approaches to a modern containerized platform.
3. Develop and optimise OpenShift pipeline
Together with your development team, we assess your current development pipeline and look for opportunities to improve. Using open source tools like Jenkins and Jenkins-X, we automate your development pipeline to achieve continuous integration and delivery. Allow your developers to develop and test in production-like environments and see how the quality of your software improves.
4. Review application production readiness
Let one of our expert consultants go through your infrastructure together with your team and verify that your system is ready to go live. The outcome of this assessment will be a report listing potential problems in your infrastructure or application, including recommendations and actions to take to prevent the issues identified.
Estimation of the time our experts will spend on consultancy:
| | | |
| --- | --- | --- |
| Simple application | Typical application | Complex application |
| 2+ days | 5+ days | 10+ days |
Estimation of the time our experts will spend on consultancy:
| | | |
| --- | --- | --- |
| Simple application | Typical application | Complex application |
| 5+ days | 10+ days | 20+ days |
Estimation of the time our experts will spend on consultancy:
| | | |
| --- | --- | --- |
| Simple application | Typical application | Complex application |
| 5+ days | 10+ days | 20+ days |
Estimation of the time our experts will spend on consultancy:
| | | |
| --- | --- | --- |
| Simple application | Typical application | Complex application |
| N/A | 2+ days | 5+ days |
Get started with DevOps
Speak to one of our consultants and tell us about your goals. Together we can discuss the right direction towards DevOps implementation within your company. Free of charge, of course. We're here to help. 
Why choose Proteon as your DevOps Services provider? 
Hands-on experts
Practising DevOps and using DevOps tools is at the core of our business. We have over four years of experience working with Docker, Kubernetes, OpenShift, and other technologies that optimize and modernize IT. On top of that, we have been a managed hosting company for over 20 years. Offering tailored solutions to make applications run smoothly is in our DNA.
Besides consultancy, we also offer Managed Services. By performing managed services tasks, we became hands-on experts. We handle the set-up of the tool stack and infrastructure, and we provide mentoring and hands-on services.
Up-to-date tactics
DevOps is an ever-growing concept with a new tool or concept release every day. At Proteon, we invest in training for our consultants to stay up-to-date. Besides this, all our experts use DevOps themselves. Whether it is to build a CI/CD pipeline for a customer or automate testing and agile development.  CI/CD, rolling deployment.
Certifications and memberships
How DevOps are you?
Find out the DevOps maturity level of your organization during a free call with one our DevOps consultants.