Written by Romain Weeger and Roel Guldemond
Last week we visited Drupal Europe 2018 in Darmstadt as Proteon's sales engineers for the French market. It was certainly not our first Drupal event and in the past years, we have been to many editions of Drupal Con. With our experience, we were able to compare this edition of Drupal Europe's developments to other Drupal Con developments over the years.
A quick look back in history shows us the growth of the Drupal community and its main event:
<50 visitors in Antwerp '04
100 visitors in Amsterdam '05
150 visitors in Brussels '06
450 visitors in Barcelona '07
500 visitors in Szeged '08
850 visitors in Paris '09
1200 visitors in Copenhagen '10
1700 visitors in London '11
1700 visitors in Munich '12
1800 visitors in Prague '13
2300 visitors in Amsterdam '14
2000 visitors in Barcelona '15
1700 visitors in Dublin '16
1600 visitors in Vienna '17
The main (European) Drupal event of this year seems to have around 1000 thousand visitors. This seems like a dramatical decline of visitors compared to Drupal Con 2014 in Amsterdam, but in our humble opinion, there are more ways to look at lesser visitors.
It is not necessarily true that every product has a product life cycle. But Drupal is now shifting from 'maturity' to the 'saturation and decline' stage which could explain the declining number of visitors. The one thing that can prolong the duration of the life cycle stages is innovation. At Drupal Europe, several innovations were announced and the announcements were received with great enthusiasm. Like the release of Drupal 9 in 2020. During the 'Driesnote', founder and lead developer of Drupal, Dries Buytaert spoke about the Drupal roadmap and the most important changes that are happening in the world of Drupal now and within 2 years.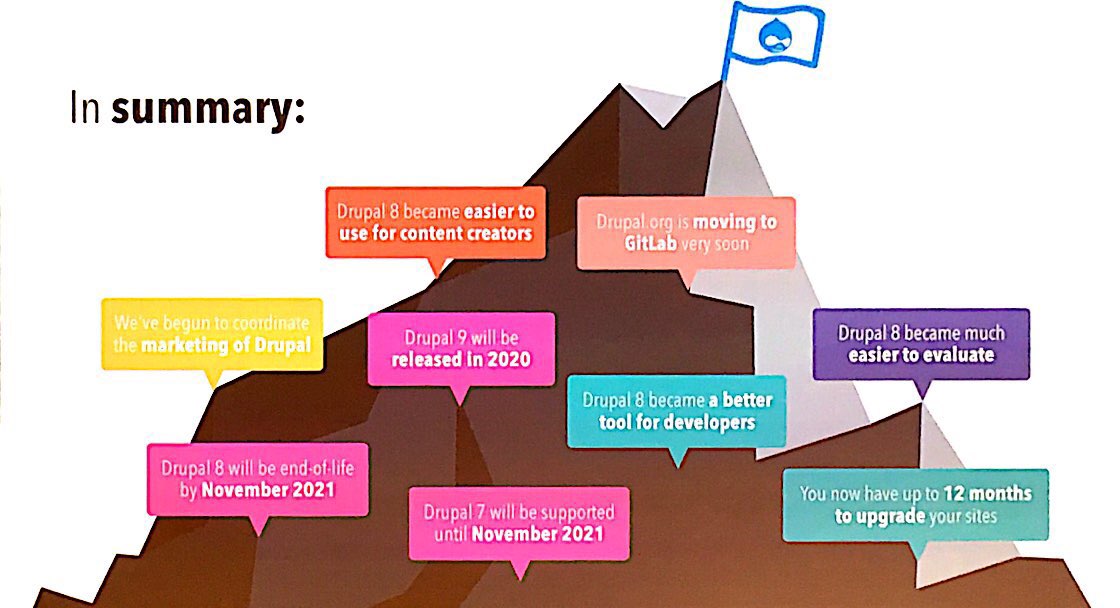 We looked at the past and the future, now let's get back to the present. Drupal Europe 2018 discussed a broad spectrum of subjects and even more different functionalities. Many companies shared their projects or use cases. Remarkably, there were several presentations on none-Drupal-related issues like:
WordPress implementation at Greenpeace;
an experienced open-source user who joined Microsoft;
the Rocket Chat project;
the NextCloud office suite.
As OpenShift-passionates we are more interested in the list of presentations on containerization, Docker and other related technologies. There were a lot of participants who shared their way to handle Dockerization and the use of Kubernetes.
Talks we attended were:
Modular software, modular infrastructure by Jakub Piasecki;
Why DevOps, Containers, and Tooling Matter in Digital Transformation by Tracy Evans and Steven Grandchamp;
Automatic Drupal instances per Git branch under your control, on your own server or your Kubernetes cluster by Markus Orenstrat;
Docker 101 for Drupal Developers by Will Hall;
Down the rabbit hole: containerizing your Drupal site on Kubernetes and deploying it the blue/greenway by Nils Peeters;
Virtual Machine, Container or Serverless by Ryan Terrence.
Keep an eye on the YouTube Channel of Drupal Europe to view the recordings of the sessions.
Drupal Europe 2018 is for us a confirmation that containerization is on the rise and Kubernetes is the way to go. Though Drupal Europe did challenge us to take a closer look at our own Kubernetes usage and to continuously improve our current Kubernetes working method. Concluded, it was a great event to get inspired.