To become a Red Hat Certified Cloud & Service Provider (CCSP) is a trusted destination for independent software vendors. As a CCSP we are able to use the Red Hat infrastructure and solutions to serve our customers with secure, scalable, and supported enterprise solutions. Our customers are assured that the Red Hat applications they are using function as anticipated on a trusted cloud.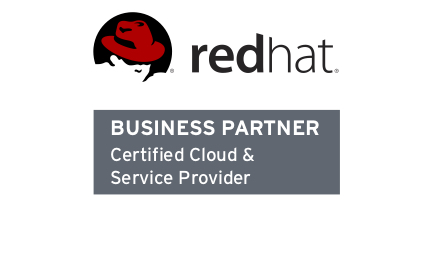 What we vowed when becoming a CCSP Partner
As a CCSP partner, are obligated to offer a highly available and scalable infrastructure for hosting OpenShift. We need to have an update infrastructure that ensures OpenShift accessibility, persistency, and security. To provide our customers with the fastest performance, we also have to run a Red Hat certified hypervisor on Red Hat certified hardware. Lastly, our technical teams have to meet training and support criteria to offer enterprise-level support.
Benefits for our customers
The benefits for our customers can be found mainly in the improvement of our products and services. As a Red Hat partner, we are able to provide:
Flexible pricing
Enterprise OpenShift for bigger and more critical solutions
Premium 24×7 Red Hat support
System management solutions including Red Hat Update Infrastructure and Red Hat Satellite
Joint customer issue resolution with Red Hat Global Support Service
A compliant way to offer Red Hat OpenShift as a Service
New product: OpenShift Container Platform for Enterprises
The OpenShift Container Platform is a cloud computing Platform as a Service (PaaS) for on-premises or private clusters deployments. Proteon provides on-demand access to a cloud-based application platform that is ready and set to go within minutes. This allows enterprises to quickly and easily build applications since the provisioning and system management is largely automated. Help your IT operations team to manage the growing demand for new applications more easily.